HOTEL STYLE SERVICES WITH APARTMENT STYLE ACCOMMODATION
Franklin Apartments is centrally located along the Market to Riverbank laneway and allows everything great in Adelaide to be seen on foot. Highlights including Rundle Mall, Adelaide Central Markets, Adelaide Convention Centre, Rundle Street shopping precinct, Waymouth St restaurants and Adelaide Oval all within walking distance.
They don't build them like they used to… One, Two and Three Bedroom Apartments are of generous size and offer daily service, air conditioning, full kitchen, laundry and bathroom facilities in room. We understand that plans change and offer rates with flexible cancellation at no charge within 48 hours of arrival.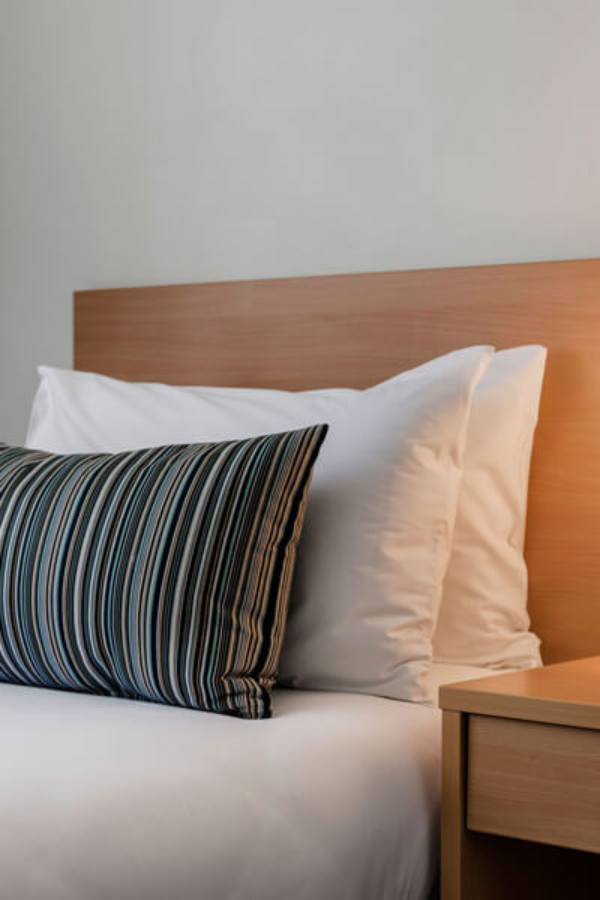 Great place to stay and a very nice location. Very friendly staff and special mention to Aman, who was really helpful and responsive to every query I had. Highly recommend if you are here on business or vacation as the location helps you visit every possible side of the city.
Facilities are excellent, staff friendly and very helpful. Aman was first class, excellent with her coordination of our stay. Easy to access to CBD, restaurants and Adelaide Central Markets. Room fully fitted with great practical amenities.
Visited recently for a conference and found the apartments online close to the conference. In the city centre and close and easy to get to. Close to many things including good restaurants. The rooms themselves were comfortable and equipped with all the amenities you could want for comfort and convenience.
Our one bedroom apartment was perfect for our short stay in Adelaide. Well equipped and serviced daily so always had plenty of everything. Plenty of space for the two of us. Staff were very helpful and always there when we needed them. Centrally placed so could easily reach the amazing Central Markets( a must go destination for food and atmosphere) and the main city sites. Made use of the free tram stop just around the corner.
Couldn't be better placed for my needs. As an intermittent long term guest for the last 6 months, I keep coming back because it is reasonably priced, has everything I need in a basic apartment and the staff are always extremely attentive and friendly and keen for a chat. I would certainly recommend consideration to be given to Franklins.
Comfortable well appointed rooms for an old building. Friendly and efficient staff. I would recommend it for either business or tourist travellers as the location is close to both the CBD and Central Markets.
We had a lovely stay. Our 3 bedroom apartment was very spacious, clean, nice view and close to everything, secure entry with easy access and onsite parking. Staff were great. Would highly recommend. We would stay again.
Franklin Apartments is an older building set in the heart of Adelaide city but don't let the age of the building deter you. The staff are excellent, the rooms are extremely clean, quiet and the beds are comfortable and it's close to everything central markets, great cafes and restaurants, easy to walk to Rundle Mall, highly recommend.
I have stayed at this property for the Tour Down Under twice now - it is a great location and handy to all festival activities. The units are well maintained with good facilities. I particularly like having a washing machine for the duration of the tour as it makes travelling, cycling and management of all much easier.
We stayed as a family of 5 for the weekend. The location was great for exploring the city as it was close to attractions and transport. The apartment was very clean and had access to many useful things, such as kitchen, washing machine and dryer. Parking was also available onsite at an extra cost. Overall an excellent place to stay with extremely friendly reception staff.
Spent two nights in Adelaide and Franklin Apartments is highly recommended. Spacious, clean and quiet. All amenities like washing machine, dryer, coffee pod machine and balcony. Nice staff that helped out with parking arrangements and recommendations.
Experience the comforts of apartment living complemented by hotel-style services
Whether you're staying for work or play, our friendly and passionate staff are on hand like a private concierge to make your stay welcoming. Conveniences of FREE WiFi, secure onsite parking (booking required and charges apply) and local knowledge will help you navigate your way through the plethora of amazing restaurants, bars and shopping on the doorstep.
Prime Location for Exploring Adelaide
Location & Find Us
Franklin Apartments offer the convenience of hotel-style services within apartment-style lodging, ideally situated between the bustling Waymouth Street eateries and the vibrant Adelaide Central Markets.